What are pressure injuries?
Pressure injuries, also known as pressure ulcers or bedsores, are skin injuries that occur when localized pressure or shear is applied to the skin's surface for a prolonged duration. This frequently occurs when a patient spends significant periods of time in a bed or wheelchair.
Pressure injuries typically occur on bony areas of the skin, such as the spine, heels, elbows, shoulder blades, or back of the head, and are worsened by improper skin moisture. These wounds affect more than 2.5 million people per year and can lead to life-threatening complications due to wound worsening or infection. Many pressure injuries can be prevented with proper clinician expertise, so it is crucial that healthcare workers are aware of risk factors and prevention strategies. 
What are the symptoms of pressure injuries?
The symptoms of pressure injuries include:
When assessing pressure injuries, the severity of the wound is described based on four distinct stages:
It is important to remain vigilant and to take action if a patient develops these symptoms. As a pressure injury progresses through the four stages, it becomes increasingly dangerous, so preventative strategies and early treatment are critical.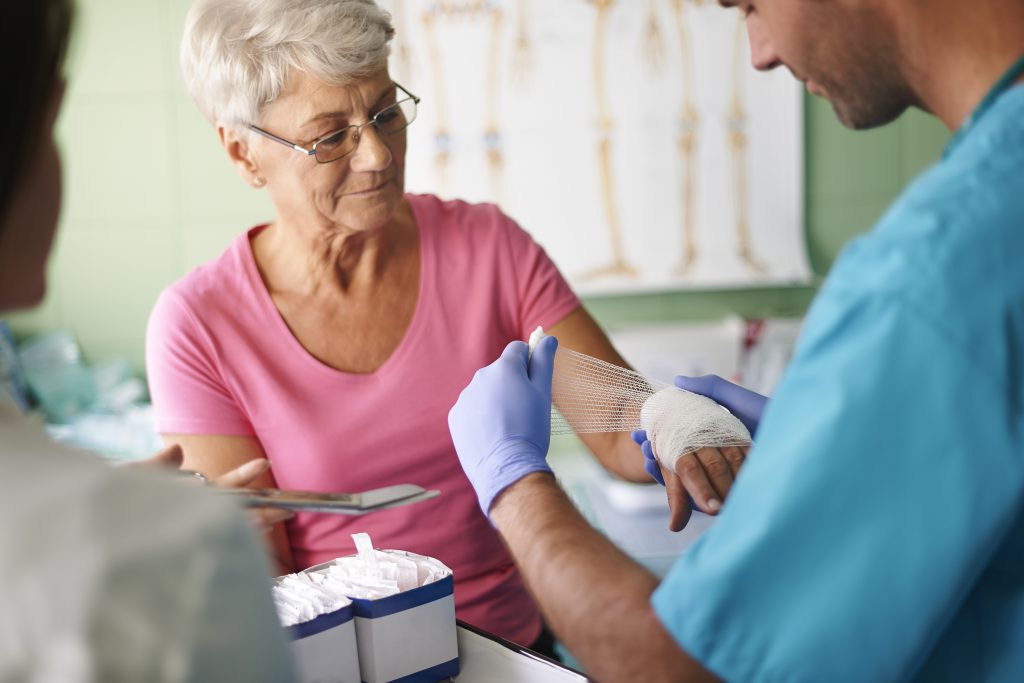 Who is at risk for pressure injuries?
Since pressure injuries result from prolonged pressure to the skin, they most frequently affect those that spend significant periods of time in bed or in a wheelchair. This primarily includes the elderly and those who are hospitalized due to illness or injury. Other at-risk groups include:
Pressure injuries cause reduced blood supply in the affected area, which can lead to tissue damage or death. If worsening or left untreated, pressure injuries can also lead to life-threatening complications and even death. Understanding and identifying at-risk patients is an important way to take action.
How can you prevent pressure injuries?
Prevention is the most valuable way to reduce instances of pressure injuries and improve patient quality of life. Here are five ways to prevent pressure injuries:
Pressure injury awareness
Pressure injuries are widespread, chronic wounds that significantly diminish patient quality of life. In order to prevent them, clinicians must be aware of risk factors and treatment strategies.
To increase awareness about pressure injuries and other important wound care considerations, Vohra Wound Physicians has helped thousands of clinicians become credentialed through our Wound Care Certification Program. This program educates clinicians on effective wound care, with topics including Acute & Chronic Wounds, Atypical Wounds, Preventing Rehospitalization, and Pressure Injuries. 
Vohra Wound Physicians is the nation's most trusted wound care specialty practice. Founded in 2000, Vohra works with nearly 3,000 skilled nursing facilities and uses innovative, proprietary methodologies and technologies to provide superior wound healing to patients.